The Moon and the Sledgehammer is a film that celebrates the unique independent lifestyle and philosophies of a real family: Mr Page; his two sons Jim and Peter; and his two daughters, Kathy and Nancy.  
---
Original film

Philip Trevelyan's unique portrait of the remarkable steam-loving Page family.

Companion DVD

A Behind-the-scenes look at the making of the film.

 

2 DVD box-set

The Moon & the Sledgehammer plus Behind the Moon
---
1969    –    2019
HAPPY 50TH!
Film celebrates a remarkable 50 years.                      
Shot in the summer of 1969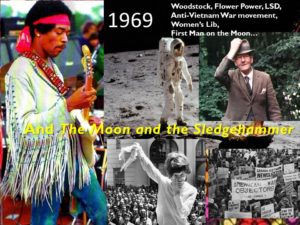 1969, such a colourful, eventful, exciting year.
Jimi Hendrix played at Woodstock; John and Yoko were in a bed in Amsterdam for Peace; Everyone knew the lyrics from
Hair,
protesters were demonstrating against the Vietnam war; Women were burning their bras and demanding equal pay while everywhere eyes were turned skyward as man attempted the first daring moon landing.  And that same summer of '69,  somewhere deep in a Sussex woodland clearing, the Page family were going about their business, leaving us with a glimpse into their unusual daily life, their thoughts and ideas, seemingly so very different from our own, eccentric, bizarre even, but yet half a century on this family continues to hold a curiously hypnotizing attraction.  Why?