The Moon and the Sledgehammer is a film that celebrates the unique independent lifestyle and philosophies of a real family: Mr Page; his two sons Jim and Peter; and his two daughters, Kathy and Nancy – so relevant today in times of eco-awareness. 
---
CLEARANCE SALE!
We're having a clearance sale of the original, pre-restored version of the film. A bargain at £8.99. Limited quantities. When they're gone they're gone. Click here
We have slashed the price of the new restored DVD to the original release price of £17.99 for the fabulous restored copy PLUS Behind The Moon and the Sledgehammer, which offers an insight into the making of the film.  And we're keeping the price down until we get some rain.  Like everyone else, we're praying for rain, so be sure to get your copy fast while this very special offer price lasts.
The Moon and the Sledgehammer is 50
and still a full head of steam!

 
The Moon and the Sledgehammer proudly announces that it has achieved the very rare milestone of continuing to entertain and fascinate the public for an astonishing 50 years.  Mr Page and the family would be thrilled.  This is a fine accolade that star-studded, big budget films dream of and an outstanding achievement for a small budget UK documentary that has so much to offer.  We are in no doubt that in 2071 the film will be celebrating its centenary.
Mr Page is going to COP26!
COP26 EVENT ANNOUNCED:  Fri 5th November at 17.30
The film will screen during COP26 at Glasgow's most amazing new venue – probably the most sustainable cinema in the country which follows all the rules in life that the Page family set out – sustainability, skill, devotion and imagination – making the most of the discarded materials you find around you.  And never forgetting fun of course and the great satisfaction that work brings.
It has been my great pleasure to work alongside the artist and creator, Stephen Skrynka.  His values reflect those of the Pages.  His creation, The Revelator, is the perfect setting for the film, bringing the old and the new together with one common aim.  We are thrilled to be screening there and hope politicians take note that there are many ways of achieving a happier and more contented, sustainable way of life.  As our event shows, all it takes is some imagination and a will to change.  Full information on Q&A guests here.
FILM FESTIVAL AT COP26
This event has blossomed and expanded, like a well cared for plant.  We are now hosting a film festival where each film makes a different statement about versions and visions of sustainability and the high cost of progress.
There will also be occasional musical interludes between films as harpists and other musicians explore the unusual acoustics of the venue, which, being round, promises something very different.
Click here for full information on the films being shown
Click here to get your FREE TICKETS
THE VENUE  The Revelator, Barclay Curle, South Street, Glasgow
Inside a now crumbling shipyard where Clydeside pride once produced world class master voyagers of the seas, a transformational function has taken place which strides into the future with the same boldness, confidence and fine craftsmanship of its former occupants.
 
Glasgow's exhilarating new venue, The Revelator, a corporeal incarnation by Glasgow based visionary artist Stephen Skrynka, is Scotland's only truly nomadic circular Art Space, Theatre, Cinema and fully functioning Wall of Death; a beacon of hope proving skill, imagination and devotion can make so much with so little. 
Using recycled wood, dedicated volunteer labour and support from the public and individuals, the structure has grown like a mighty tree with far-reaching branches.  Lovingly crafted with hand tools and using traditional nail-free carpentered joints, fiercely independent and experimental, this constructed vision of the future can be disassembled and taken on roaming voyages around Scotland to provide creative, cultural and educational experiences designed to unleash artistic potential and provide opportunities otherwise denied – a venue which truly celebrates making Art as a matter of life and death, and seeks to reveal it in all its forms.
Together, this Clydeside phoenix and half century old film encapsulate the same philosophies, skills, inventiveness and the sheer joy of passion, creativity and living life to the fullest, showing the limitless realities of sustainable living and a superb example of a way forward which sends a powerful message proving what can be achieved with so little when dedication is no stranger and the imagination knows no bounds.
Director Philip Trevelyan will take part in a Q&A following the screening.  He will be joined by writer Alastair McIntosh, a leading light in Scotland defending the natural world, and Dr.David Archibald, of Glasgow University's Film & Television department.
50th Birthday Celebration launched at Picturehouse Central
What a fantastic night!  Wonderfully comfortable cinema, huge screen, great projection, excellent sound and an outstanding array of guests on the panel.  Gareth Evans launched the evening with a superb dynamic and entertaining introduction, setting the bar high, and the audience were not disappointed.
A very lively Q&A followed, with original and insightful contributions – John Russell Taylor brought his encyclopaedic  knowledge of cinema to the fore, making comparisons with Cocteau, Vigo and Jennings and calling Trevelyan 'one of the few real poets of cinema'. And following on Maxine's point that the word 'eccentric' can be used in a derogatory way, he made the insightful comment that 'Sometimes it's the world that is eccentric, peculiar, and not totally in touch with reality and it's the family that are not eccentric, that are real.'
Maxine Peake talked with passion about the poetic way the family spoke, and criticized the perceived notion that poetry does not occur in the language of ordinary people.  She also explored subject matter and style of documentaries today, finding them too limited by TV dictates, inhibiting certain important stories to be told – to their detriment, she added.

Philip Trevelyan talked philosophically about the importance of the film's message and sustainability today, told more stories about the family and reminded us that we are closer to a time of no electricity than of having it, and how, when Mr Page talked of ascending the ladder to the moon where oxygen would run out half way, he was using poetic metaphor to say that mankind is moving too fast and is also about to run out of oxygen of a kind.
When asked why he filmed the family Trevelyan replied "I found them freer than most people.  They had found a way of enjoying life and I wanted to capture that".
The audience had endless questions – the Q&A could easily have lasted so much longer.
The buzz continued to the after-party, full of stimulating chat and not a mobile phone in sight.  Think that says it all!
If you missed this special event you can still enjoy all the wonderful insights from the conversation.  Click here to watch the full Q&A free on Vimeo.  No password required.
It was a great birthday party for such a timeless and enduring film that continues to resonate throughout the decades.
Click here for announcements of more screenings during COP26, with more very special guests to come!
Simultaneous Glasgow screening a great success!
We were so delighted to know that the same event was happening simultaneously 400 miles away on the banks of the River Clyde in Glasgow.  Stephen Skrynka launched his incredible venue to the public with his first screening – choosing a film that fully resonates with his project.  The packed audience was 'spellbound' with all but one seeing the film for the first time.  How I envy them that!  They also had a lively Q&A but like London, ran out of time.
If you missed this screening, there will be another one during COP26 – Mon 1st – Fri 12th November.  Philip Trevelyan will be holding a Q&A there with more special guests in a building that encompasses everything about sustainability and and an amazing example of creating something wonderful with the materials you find around you.  Dates will be announced soon.
---
---
---
---
---
---
---
---
50th Birthday Special Event  
Two very special guests announced


Maxine Peake and John Russell Taylor
to join director Philip Trevelyan for a Q&A
1st September at Picturehouses Central, Piccadilly Circus, London
It is with great pleasure that we announce the first of our Special Events. It will take place on Wednesday 1st September at 18.30 at the fabulous Picturehouses Central in Piccadilly Circus.  Book your tickets here to avoid disappointment.
We are delighted to announce that screen aficionados, actor, writer and director Maxine Peake and Times film and art critic, John Russell Taylor, will join director Philip Trevelyan onstage for a Q&A following the screening.
John Russell Taylor has had a long and distinguished career as both film then arts critic for The Times as well as writing numerous books on the greats of cinema, among them studies of Hollywood, Hitchcock, Mankiewicz, Cukor, Welles, Bergman and Guinness, and major contributions to the art world with his books on Claude Monet and the Impressionist.
He spent six years as a professor, lecturing on film at the famous University of Southern California whose alumni include John Carpenter and George Lucas.
He first met Trevelyan 50 years ago at the Berlin Film Festival when the film screened there in 1971, allowing him the rare opportunity to have observed the film's continued success over half a century.
"I think it's an honourable bridge between the pre-war and the sort of films which have come subsequently.  Many documentaries made nowadays are didactic; many of them made as television features as this might be, especially if you were trying to make a film like this today, are too loose and unorganized.  This is organized but it's organized in a poetic way, put together by the film makers, going with the flow, seeing what works with what, and combining it all into a wonderfully poetic whole, and that I think is something which could be, and clearly is, every now and then, influential on the way films are made today.  It's a return to a sort of art film making which sounds derogatory, but it isn't.  Film is an art and why should it not be treated that way?  And among its artistic potential why should the poetic potential – the poet's way of putting things together – not be exploited and celebrated?  That is what The Moon and the Sledgehammer does".

We are thrilled to have a national treasure Maxine Peake, actress and narrator, whose packed career spans stage, radio, screen and television and whose impressively long list of credits and versatility ranges from comedy in Dinnerladies and drama as Veronica in Shameless and from Alan Bennett and Shakespeare.
She has long been a fan of The Moon and the Sledgehammer and chose it as her Desert Island Doc at the Sheffield Doc Fest.  You can watch the interview below where she shows a deep understanding of the film and discusses its merits so poetically.
"They can fix anything!  What's extraordinary about it is I don't think you could ever make another documentary like it ever again.  It's beautiful; very poetic.  He's very articulate, Mr Page.  They sort of all are.  There's something about all of them that their use of language is extraordinary.   They feel like some sort of poem; an ode to another way of life.  The old English ethos, the connection with the land, the pagan element running through…  Something very magical and quite spiritual about it…."
We are truly honoured that these guest will join Trevelyan to discuss The Moon and the Sledgehammer and can only anticipate with the greatest of pleasure the conversation in store and hear their views on why this extraordinary film has continued to captivate audiences over five decades and why its popularity has increased even more since the onset of the pandemic. Expect a lively conversation as they discuss the unique Page family, the merits of the film and the secrets of its longevity. 
SUBMIT A QUESTION TO THE Q&A
T

here is only so much that can be included in one hour and so many of you have questions you would like to ask so take this opportunity and ask your question.
Simply email us at info@themoonandthesledgehammer.com with your question.
You can include your name and town.  Please also state if you will be in the audience.

    
The Cinema
Book your ticket here for this Special Event on 1st September at 6.30PM at Picturehouses Central in Piccadilly Circus in the former Trocadero building, Shaftesbury Avenue Piccadilly London W1D 7DH  (corner of Great Windmill Street)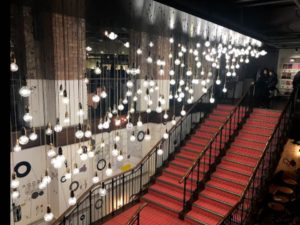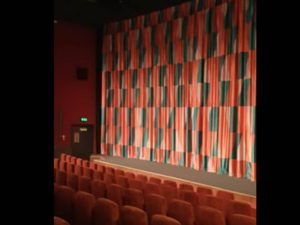 Picturehouses Central is the flagship cinema of the Picturehouses group, located in the heart of London in Piccadilly Circus.  It is the former Trocadero Centre and has now been transformed into a luxury 7 Screen cinema, all boasting huge screens and probably the most comfortable and spacious seats in the country.
In line with Covid advice, there will be an empty seat between parties.  Audience are advised to wear masks but this is not mandatory.
Tickets available here on their website   
SIMULTANEOUS SCREENING IN GLASGOW
A simultaneous screening will be held in Glasgow on 1st September at 6.30pm.
It will take place in a fabulous venue – a former Clydeside shipyard!  The premises is now being used by artist Stephen Skrynka and his team of volunteers who are building a Wall-of-Death cum travelling cinema and theatre within it which will have a nomadic existence as it travels around Scotland offering all sorts of exciting arts projects.  The materials used are recycled – mostly scaffolding planks – and all the labour is volunteer.  It's a true labour of love with a great purpose.  Mr Page would surely approve.  So if you are in that vicinity head on down the Clyde and celebrate the film's 50th with us from north of the border.  Funds raised will go towards the project which he is calling The Revelator.  Tickets are limited so get in fast.  Address is The Revelator, Barclay Curle, 739 South St, Glasgow G14 0BX
This event is now SOLD OUT
And if you miss this screening, there will be a later one at same venue in November to coincide with COP26 which is being held in Glasgow.  
The Revelator at various points under construction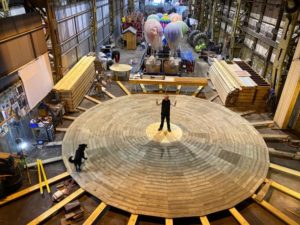 No nails are used so that the structure can be disassembled and taken on the road

Trevelyan Retrospective
We continue to work with cinemas and film festivals on the important Trevelyan Retrospective and hope conditions allow for this exciting event.  The Retrospective will start with Trevelyan's earliest film – his student film,  Lambing, and continue with Ship Hotel – Tyne Main, a wonderful piece of observed cinema featuring the famous pub on the banks of the river Tyne on a Sunday afternoon as the publicans prepare to welcome the locals for a sing song and game of dominoes.  Big Ware is a study of the last traditional country potter.  The delight and high standard he takes in his craft as we observe his skills tells the story of how pottery, once common in every home, lost out to the competition from plastic, but when people returned to pottery he was the only potter left.  The family business continues to this day. Trevelyan's rarely seen film about the poet Basil Bunting And of course Trevelyan's most famous film, The Moon and the Sledgehammer, will be featured, with guests accompanying Trevelyan on stage for Q&As.
It has been a very tough time for the industry and continues to be challenging due to seating restrictions so please support your local cinemas.  The unthinkable alternative is quite simply that we will lose them, and what an unwonderful world that would be.
The Moon and the Sledgehammer during the pandemic
Hello.  I hope this finds you safe and well during these strange times of both adversity and positive changes, where our values are being challenged like never before.
This year we had many plans in place to celebrate the 50th year of the film with a wonderful new DVD made from the amazing restored copy of the film, which also includes companion DVD Behind The Moon and The Sledgehammer.  However, with cinemas closed and gatherings no longer possible, we have had to put our plans on hold which was very disappointing
We have heard from many of you about how much you've enjoyed the film and how it has inspired you during the pandemic and how relevant it is in today's times.  Mr Page talks about people having nothing if they haven't got time.  "If you haven't got time, you haven't got time to have anything because you haven't got time".  For the first time many of us found ourselves with all the time in the world and used it just as Mr Page said – to live, to make things, to wonder at the world and for many it enriched their lives.
Mr Page also talks of the importance of food – 'It's food first.  Work after.'  Food has never been as important as it is today.  The new Flour Power you might even say.  Our world is closer to the Pages than it has ever been; for some time we were living on basics.
When lockdown started we suddenly experienced clean air, peace and quiet to hear birdsong, and most of all, time to live.  We passed through summer into autumn and then a difficult winter.  Now, a year on, things feel like they are starting to get better.  What better time to curl up on the sofa and enjoy the Page family and ponder their views of the world?  As anyone who is familiar with the film knows, it can be watched many times and you'll always find something new.
So enjoy your Page Family moments. Stay safe and do something wonderful in these strange times.
If you wish to order your copy of the new 2-in-1 DVD please click here
NEW!!!  50TH ANNIVERSARY SPECIAL EDITION DVD

THE MOON AND THE SLEDGEHAMMER from the new restored negative.

Enjoy the full glorious colours of this exciting new edition.
"It's so good I thought it was the original film,"

2 DVDs in 1 includes BEHIND THE MOON & THE SLEDGEHAMMER 
---
Available Now!

We are delighted to announce that following some delays due to lockdown, the new DVD, made from the fabulous restored version of the film and also containing companion DVD, BEHIND The Moon & the Sledgehammer, is now available to order.

We are thrilled to be able to present the film in the highest possible quality; so much so that it cannot be distinguished from the original film version.  The many glorious shades of green that surrounded the Pages are back again, under that blue summer sky of 1969, and wait till you see the peacock!

This upgrade also ensures that the film will survive long into the future to be enjoyed by many generations to come.  We are proud that we have successfully preserved the film, despite the fact that no funding is available for this and give our grateful thanks to Harvard University who recognized the importance of the film and generously supported us in ensuring its existence.  We are thrilled with the results.  As director Philip Trevelyan said when he viewed the restored copy "the film has come alive again".

click here to order your new copy