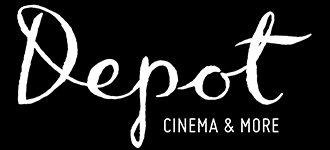 12th June, 8.30 pm
Enjoy the opportunity to watch the film in deepest Sussex, very close to where the family lived.  The Depot Cinema in Lewes is screening the film on 12th June at 8.30 pm.  The screening is part of a new programme they are running called Sussex on Screen exploring the contributions Sussex has made to the film industry and how the county has been depicted on the big screen.  The three lectures and discussions will be led by Richard Gravett, a local filmmaker, and will focus on teen cinema, crime and documentary.
This event offers the chance to see Sussex over the years and see the changes that have taken place.  Tickets here
London Short Film Festival   Sunday 21st Jan 3pm
The London Short Film Festival returns for the 15th year from 12th – 21st Jan 2018.  Don't miss the screening of THE MOON & THE SLEDGEHAMMER, followed by a Q&A with director Andrew Kötting who is surely one of the film's biggest fans.  Some of you will remember him on stage with Philip Trevelyan as featured in BEHIND The Moon and the Sledgehammer where he declared the film plus a 16mm projector would be his desert island luxury.  With his bombastic style it's likely to be a very lively Q&A.
At this screening Moon & Sledgehammer will act as a catalyst for discussions on the imagery of rural England on film.  Following the screening the film Diddykoy (1992) by Kötting will be shown.  Joining him on stage will be photographer Ingrid Pollard who has developed a social practice concerned with representation, history and landscape with reference to race, difference and the materiality of lens based media. Her work is included in numerous collections including the UK Arts Council and the Victoria & Albert Museum.   Lucy Reynolds  of the University of Westminster will host the event.
Where:  Institute of Contemporary Arts, 12 Carlton House Terrace, London SW1Y 5AH
When:   Sunday 21st January.  3pm
WATCH NOW
TWO EARLY TREVELYAN FILMS, BIG WARE AND LAMBING NOW AVAILABLE ON DEMAND FOR FIRST TIME
BIG WARE mini-trailer.  To view the full trailer click here

Philip Trevelyan's 1965 film, BIG WARE,  a portrait of George Curtis, the last traditional country potter, is available on demand for the first time.
Littlethorpe Potters in Ripon was founded in 1861. George's journey reads like a living history book, from Victorian times where a large milk jug was a standard in every home and a pot for everything, through the advent and iniquitous spread of plastic, round full circle to our age of eclectic selectionism where a pottery milk jug is more of a lifestyle statement than a necessary utility.  And all the while George has been digging out lumps of clay to create something of use and beauty.  Trevelyan's love of work, a theme he was to develop over his career, is evident in every shot.  All the time George is doing  something; digging clay, wheeling it up the hill in his ingenious gravity-propelled bogey, spinning it on his wheel, taking wheel-barrow loads to the storeroom, decorating the pots and talking to customers.  He's keen to get on and make another good pot.  Among themselves potters judge each other by their big ware, which challenges the potter's skill on every level.  "You've got to keep control of the top else the pot will get away with you." Wise words that apply to so many situations.
Watch it now here:  https://vimeo.com/ondemand/bigware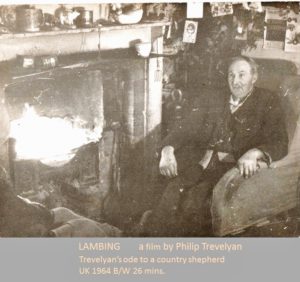 LAMBING            Philip Trevelyan's thoughts on his film
Directed by Philip Trevelyan
UK 1964, 16mm, b/w, 26 min
"This is a film about a traditional Sussex shepherd who we follow from morning to night, through snow and wind, as he works alone with his flock. This was my first proper journey into filmmaking, and my subject was a person I had worked for and admired as a boy. We used an Arriflex camera with fixed lenses and occasionally resorted to a simple wind-up camera. No electricity was used for any lighting and all sound was "wild."
The film is constructed from carefully edited moments in the shepherd's routine work. His passing comments about how to deliver or feed lambs are our only guide. He sometimes reflects on the difficulties he encounters, such as the deaths of lambs or the bitterly cold snowfall. On the whole, we learn that he loves his work and that he is happy when resting in his chair by the fire, making a cup of tea or warming milk for the orphan lambs. If the film has a climax, it is captured in the struggle of a ewe giving birth to its lamb. The film ends as the evening turns to night and the shepherd returns to his chair by a warm fire: he pulls a blanket over himself and quietly sings himself to sleep."  PT
Watch it now here: https://vimeo.com/ondemand/lambing2
Moon and Sledgehammer features in new film ARCADIA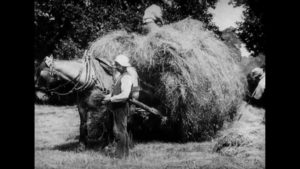 A new art film, ARCADIA, directed by BAFTA winner Paul Wright, is a poetic reflection of Britain's shifting and contradictory relationship to the land as it takes us through the four seasons.  The producers scoured the last 100 years of archives at the British Film Institute to create the film, which includes snippets from The Moon and the Sledgehammer, and have come up with the most colourful collection of very peculiar British customs of local celebrations of seasonal rituals.
ARCADIA will screen at the London Film Festival on 8th October at 18.30 in the Curzon cinema, and on 11th October at 15.30 at the BFI Southbank NFT2.
Hello 21st Century! Watch the film at your leisure online
We've read your emails.  Lots of you seem to want to have instant access to THE MOON AND THE SLEDGEHAMMER and now you can, in glorious HD.
You can now stream the film on Vimeo.  Click here and enjoy the film, and do let us know what you think.  Happy viewing!  https://vimeo.com/ondemand/themoonandthesledgehamme
View The Moon and the Sledgehammer
You can also watch BEHIND THE MOON AND THE SLEDGEHAMMER on demand.   This offers an insight into the making of the film and answers some of the questions you've been asking.  There is only so much that can be included in a 65 minute film.  Director Philip Trevelyan talks to an audience, answering many questions about how he met the family, why Mrs Page is not seen, and what happened to the family.  He tells us how Mr Page was an aircraft engineer in the first world war and recalls other conversations that were had off camera.  Click here to watch the film now https://vimeo.com/ondemand/behindmoonsledgehammer
View BEHIND The Moon and the Sledgehammer
---
Maxine Peake selects The Moon and the Sledgehammer for her Desert Island Docs.
National treasure Maxine Peake, famous for her brilliant acting in Shameless, Dinnerladies and countless theatre and film productions such as The Theory of Everything, The Falling and Silk,  joined Simon Hatterstone of the Guardian to discuss her Desert Island Docs selection during the recent Sheffield Documentary Festival.
We are thrilled and honoured that among Maxine's selection was our very own film.  Listen to the short clip below and hear her very sensitive take on the film and the Page family.   "What's extraordinary about it is I don't think you could ever make another documentary like it ever again.  It's beautiful; very poetic.  He's very articulate, Mr Page.  They sort of all are.  There's something about all of them that their use of language is extraordinary.   They feel like some sort of poem; an ode to another way of life.  the old English ethos, the connection with the land, the pagan element running through.  Something very magical and quite spiritual about it…."
To hear the full conversation and discover Maxine's other Desert Island Docs please click here
Next screening…   Towner Arts Gallery, Eastbourne. 18 Nov 7.30
The Moon and the Sledgehammer  will screen at the Towner Arts Gallery on Sat 18 November at 7.30.  Ben Rivers' film, This is my Land, will also show.  Rivers is fascinated by people who live on the edge of society.  His film follows the life of old Jake in his remote and ramshackle Aberdeenshire home.    Like the Page family, Jake 'inherited' his lifestyle, both having been once part of a thriving rural community.  Neither chose to live so remotely but equally, both chose not to give up the freedom it offers in exchange for the doubtful rewards of consumerism.
The programme has been curated by Andrew Kotting  and is part of a wider free exhibition called Who You Walk With Alters What You Are.  It features three psychogeographical journey-works made in collaboration with Iain Sinclair, featuring pinhole photographs (Anonymous Bosch), artefacts, paintings (Eden Kötting) and film installations.  Kotting's own Gallivant screens on 2nd December.
Tickets here:   http://www.townereastbourne.org.uk/event/the-moon-and-the-sledgehammer/
Bewdley, Worcestershire 7 Nov at 7.30pm
Get on down to Bewdley in Worcestershire on 7th November for a screening of The Moon and the Sledgehammer, starting at 7.30 pm.  Part of a double bill, the film will screen with 'London Symphony', a brand new silent film – a city symphony – which offers a poetic journey through the city of London. It is an artistic snapshot of the city as it stands today, and a celebration of its culture and diversity.Â
With music by James McWilliam, it has been nominated for the Michael Powell Award for Best British Film at the Edinburgh International Film Festival 2017
Tickets are £5.00 and can be purchased at the venue or online here:  http://thehall-bewdley.org.uk/component/ohanah/bewdley-film-club-double-header?Itemid=185
Book your tickets now as I'm told they're going fast.
---
---
Film maker ANDREW KOTTING shares his impressions on the film with us.
Where to begin?
At the beginning?
Before the moon landing?
Wayback before we had the 'understanding'?
Wayback when time began expanding to become a multi-dimensional uneven post-modern happening?
Wayback before genre mingling and sex changing?
Wayback when there was a lot of smoking?
---
Coming Soon
Full restoration of the 35mm film negative.
Film will be preserved for future generations
More…
---