Philip Trevelyan Retrospective
Harvard University Carpenter Center for the Arts and the Lincoln Center, New York.
April 2016
This long overdue retrospective rightly pays tribute to the quietly powerful art of Trevelyan, whose unobtrusive, intimate style is played out in a tapestry of striking images moving unhurriedly to a melody of slow ticking clocks and sentient silences.  In this hypnotic world time takes a shift and values change in the blink of an eye.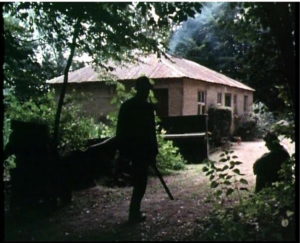 Seeing Trevelyan's body of work clarifies not only his outstanding creative style, showing another more poetic way of film making, but also his intent.  Constant admiration and respect for his subjects and their skills is omnipresent.  In the generations from grandfather to grandchild the world has become almost unrecognizable save for the few remaining pockets of argicultural and artisanal work Trevelyan has uncovered in our modern metropolis. He focuses on the neglected yet important things in life that he feels we should be paying more attention to. This is a unique opportunity to view Trevelyan's craft as a director of note and style, and gently reminds us to question the price we pay for today's ever more homogeniesing world.
Haden Guest will lead the packed event of screenings, talks with the audience and a conversation with photographer Chris Killip.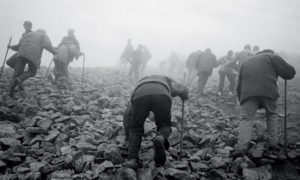 The Retrospective screenings will take place in the exciting architectural splendour of America's only Le Corbusier building.
The tour will visit some of America's most important cultural centres, starting in Harvard from 3rd – 5th April then going on to New York on 9th April where it will play at the Lincoln Center.  Later in the year it will continue on the journey south towards America's historic heartland before finally arriving  at the capital itself, Washington DC.
Will a copy of THE MOON AND THE SLEDGEHAMMER be requested at the White House?  Watch this space….
DATES and VENUES
Sunday April 3rd, 7pm    THE MOON & THE SLEDGEHAMMER + Q&A with Philip Trevelyan   The Carpenter Center for the Arts, Harvard University
Monday April 4th 7pm    LAMBING + SHIP HOTEL – TYNE MAIN with photographer Chris Killip in conversation.  The Carpenter Center, Harvard University
Sunday May 8th, 5pm    BIG WARE + K491                                                                                                            The Carpenter Center, Harvard University
Sunday May 15th, 5pm   BASIL BUNTING                                                                                                              The Carpenter Center,Harvard University
Click here to book your ticket and further details
Saturday April 9th, 6pm  THE MOON & THE SLEDGEHAMMER            The Lincoln Center, New York.  Francesca Beale Theater
Click here to book your ticket and further details
NB Due to an unexpected incident at the airport Mr Trevelyan was unable to travel.  Harvard will host the event later this year.  Check back soon for updates.
Keep watching for more updates on the Print Restoration and Kickstarter campaign.
The Philip Trevelyan Retrospective will span a career starting at the Royal College of Art in 1961 where he more