The Films


The Philip Trevelyan Retrospective will span a career starting at the Royal College of Art in 1961 where he made his award-winning LAMBING, showing the isolation and dedication of an old Yorkshire sheep farmer as he tends his ewes during the lambing season. Trevelyan unobtrusively observes an intimate portrait of the man and his craft with respect and admiration, setting a pace that slowly immerses you into his world.
Trevelyan Rare Double Bill



LAMBING Director Philip Trevelyan UK 1964 25mins
Shepherd Mr Dick Freeman by his fireside as he works through the night in the cold and dark of his hilltop farm during the lambing season. Click here for more images
LAMBING will screen with The Moon & Sledgehammer in this rare Trevelyan Double Bill. It's a unique opportunity to see Trevelyan's award-winning student film on the big screen and chart his development as a film maker of unmistakable style. Even here his early film uses poetry as the main narrative. He is already experimenting with and finessing his powerful control of time and space and ability to make his subject so at ease as to be seemingly unaware of the camera. This throws up wonderful intimate glimpses and an air of peaceful contentment as we are slowly drawn into the shepherd's world… Trevelyan seeks out people whose purpose in life he admires. He believes they have a great deal to teach us today and feels it is important that we listen and re-evaluate what we are slowly losing….
Duke of York's picturehouse, Brighton. Sat 13th Aug 3.30pm Click here for tickets
Other titles will include the highly praised
The Ship Hotel – Tyne Main (1967),
a quirky and intense study of a Sunday
lunchtime session in a Tyneside pub.
Click here for more images.

After making the popular and much loved
The Moon and the Sledgehammer (1969-71),
he went on to make the award-winning

Big Ware,for the BBC's prestigious arts programme Omnibus in 1971 who screened the film twice. It shows George Curtis at work; the last traditional country potter still working. This is a subject well understood by Trevelyan whose mother was the well-known craft potter Ursula Mommens.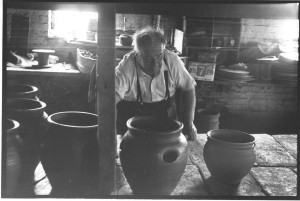 Mr. George Curtis, potter, at work.
Again, using the same crew as Ship Hotel and The Moon & the Sledgehammer,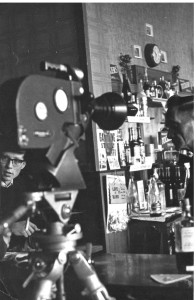 we see evidence of a tight-knit team communicating almost telepathically,
so familiar were they with each other's working style.
The Retrospective will close with a study of the poet Basil Bunting featuring
the timeless poem Briggflatte and K491, an experimental piece without dialogue, exploring interpretations of Mozart's piano concerto in C minor before a performance.
A full programme of events and date will be published soon.
Read Philip Trevelyan's comments on his films here
Read about the Trevelyan Retrospective at Harvard University here
To fully celebrate the event a new print of THE MOON AND THE SLEDGEHAMMER will be struck. We've seen some Before and After test results and it's thrilling to see the film come alive again. The sunshine is back in the woods!
Details of how to become involved coming soon including early bird offers on the new DVD and a chance to be at the UK premiere of the new print. Click here to learn more.