COP26 FILM FESTIVAL PROGRAMME
GLASGOW'S UNOFFICIAL FILM FESTIVAL OF COP26,   NOV 6th – 7th, 2021
Real change can only come if the will of the people is behind it, pushing politicians from the ground up.  Using Art as inspiration, this rare opportunity to view a collection of films from around the world, curated for the festival,  show different versions and visions of sustainability; some offering inventive solutions, (Dance of Joy) some highlighting the high cost of progress, (Bait, The Raven's Dance, Slow Glass, The Lost Legacy of Bida Bikini).  Others feature those who have found contentment and their place in life without falling into the consumer trap, (Big Ware, Lambing, The Glory of the Garden).
The festival will open with The Moon and the Sledgehammer.  Mr Page and his family knew all about the importance of inventiveness, skill, necessity and determination.  These same qualities are reflected in the film programme.  Be more like Mr Page.  Help save the planet!
All films are being shown free of charge thanks to the generosity of the film makers.  Booking is essential and can be done through Eventbrite.  Masks must be worn throughout.  Click here to book your free tickets.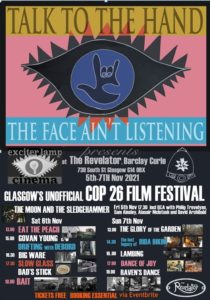 GLASGOW'S UNOFFICIAL FILM FESTIVAL
FILM FESTIVAL PROGRAMME 

TITLE                                                                 DAY                  TIME                   RUNNING TIME
FRIDAY
The Moon and the Sledgehammer           Fri 5th Nov           17.30                    65 mins
SATURDAY
Eat the Peach                                          Sat 6th Nov         13.00                    99 mins
Govan Young/Drifting with Debord        Sat 6th Nov         15.00                    47 mins
Big Ware                                                  Sat 6th Nov         16.30                    42 mins
Slow Glass / Dad's Stick                          Sat 6th Nov         17.30                    43 mins
Bait                                                           Sat 6th Nov         19.00                    89 mins
SUNDAY
The Glory of the Garden                           Sun 7th Nov        13.00                    59 mins
The Lost Legacy of Bida Bikini                 Sun 7th Nov        14.30                    57 mins
Lambing                                                   Sun 7th Nov        16.00                    26 mins
Dance of Joy                                             Sun 7th Nov        17.00                    93 mins
The Raven's Dance                                     Sun 7th Nov         19.00                    80 mins
Venue: The Revelator, Barclay Curle Complex, 739 South St, Glasgow G14 0BX
THE FILMS
THE MOON AND THE SLEDGEHAMMER Dir. Philip Trevelyan UK col 1971 65 mins
Fri 5th November 17.30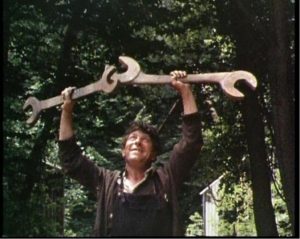 Philip Trevelyan's acclaimed cult classic, now an astonishing 50 years old, opens the festival.  It features a real family, the Pages, who for generations have lived in their isolated off-grid homestead deep in a Sussex woodland, the forgotten remnants of a once-thriving rural community left behind by progress, whose independent life is free of MSM, bank managers and clocks, but out of kilter with time and societal norms.
It offers a glimpse into their self-constructed albeit unusual universe where they have formed their own philosophies about the world around them.  There, in their woodland paradise and being part of the Nature they inhabit, they believe the world has followed the wrong path.
Director Philip Trevelyan said in a recent Q&A celebrating the film's 50th that he wanted to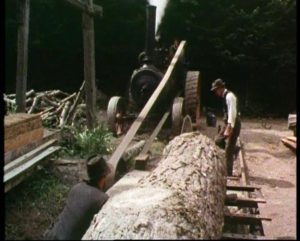 record them because
"I found them freer than most people.  They had found a way of enjoying life and I wanted to capture that".
Presented like a cinematic poem, (critic John Russell Taylor compares it to Cocteau, Vigo and Jennings), there is nothing overtly political about the film.  Instead, the director allows the audience to draw their own conclusions.  By the end, modern lifestyle pressures, stresses and consumer traps are left far behind as values are challenged like never before.
Trailer here
Following the screening a conversation will be held with director Philip Trevelyan, Alastair McIntosh and David Archibald, hosted by Sam Ainsley

EAT THE PEACH    Dir. Peter Ormrod Ireland 1986 99 mins         Sat 6th Nov 13.00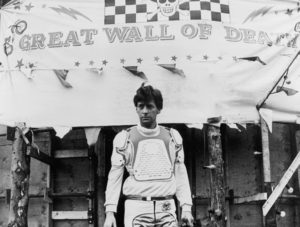 A film based on a real life story about two Irishmen who follow their dream by building a wall of death on their farm. The story takes place in an Irish village a few miles from the border with Northern Ireland.  The two out of work men see Elvis ride in a carnival Wall of Death – a high walled barrel-like tank where centrifugal force keeps the rider up in the air circling.  Straight away they begin to draw diagrams, make plans and measurements and clear a patch of land near their house . . .
A tale driven by passion showing how ordinary people can do extraordinary things.
Trailer https://www.youtube.com/watch?v=5K2OBSS5fzw
GOVAN YOUNG   Dir. David Archibald, Martin Clark and Cara Connolly UK, 2017 col. 30 mins
Saturday 6th November, 15.00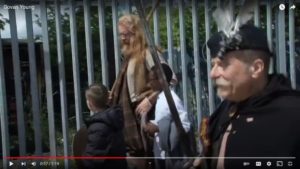 Govan Young shows an inspirational way of engaging children into learning about history.
It follows a group of local schoolchildren as they learn of the Viking invasion of Scotland and the mediaeval kingdom of Strathclyde.  How will the children react when they learn that Vikings and Kings roamed around beneath their feet?
Trailer: https://www.youtube.com/watch?v=AGF8jol3qOI
DRIFTING WITH DEBORD Dir. David Archibald, Carl Lavery UK 2020 col. 17 mins
Saturday 6th November 15.30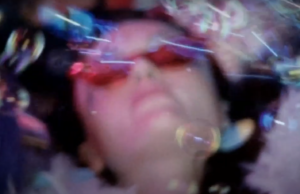 Channelling the spirits of David Bowie, Suzi Quatro and Karl Marx to debate the life and legacy of Guy Debord, theoretical leader of the Paris-based Situationist International and author of 'The Society of the Spectacle' and 'Theory of the Dérive'. Transposing Debord's ideas on the dérive from street to screen, this 17-minute film explores what a drifting cinema might look and sound like as it drifts from Paris to Glasgow, from present to past, and both with and away from Debord himself.
Trailer:  https://www.youtube.com/watch?v=PExLrJsepQ0&t=2s

BIG WARE           Dir. Philip Trevelyan, UK 1971, col, 42 mins    Saturday 6th November, 16.30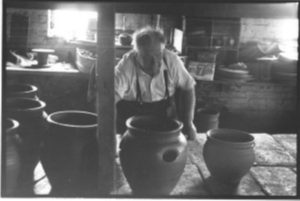 Trevelyan's lyrical films offer portraits of resolutely local communities seemingly fixed in time and people who live in intimate communion with the land, finding true contentment through their work that confirms their invaluable place in life and in society.  Big Ware, a portrait of an aging potter still working tirelessly, delights as both a documentary of a dying art and an ode of sorts to English soil, the clay-veined terroir transformed into moon-shaped vessels.
Trailer:  https://vimeo.com/357707736
SLOW GLASS            Dir. John Smith, UK, col, 1988-91, col. 40 mins   Saturday 6th November, 17.30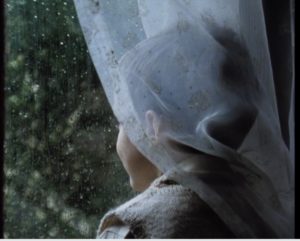 By legendary filmmaker John Smith.  Smith describes the theme thus: 'The story is used to convey to the audience not to take for granted what you have because you never know when it can be taken away from you.  Although slow glass would supposedly prevent people from forgetting, it only serves to bring back the painful memories of what they had but didn't appreciate.' A mesmerising experimental documentary that presents the discussion of the manufacture of glass as a way to explore memory and transformation. "Slow Glass" also quietly ponders the weightier issues of Urban transformation and the value placed on craftsmanship.
Trailer: https://www.youtube.com/watch?v=EEtj_Yu2A_A
DAD'S STICK       Dir. John Smith, UK, col, 2012   3.01mins   Saturday 6th November 17.30

A moving and beautiful love story from a son to his father and the intrinsic values of things, Dad's Stick features three well-used objects shown to the artist by his father shortly before he died, their form and function almost completely obscured by history.  Focussing on events relating to its history, Dad's Stick creates a dialogue between abstraction and literal meaning.  Looking back over half a century, the film hints at the character of a "perfectionist with a steady hand."
BAIT         Dir. Mark Jenkin UK 2019 B/W 89 mins      Saturday 6th November, 19.00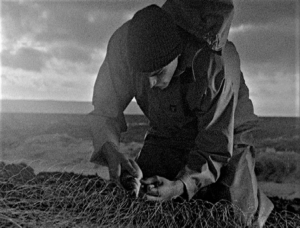 Winner of 9 awards including two BAFTAs; written and directed by Mark Jenkin.  Starring Edward Rowe as a struggling fisherman, the film deals with the tensions that arise between locals and tourists in a Cornish fishing village set against a backdrop of second homes, short-term lets, and gentrification, driving out locals, changing centuries-old fishing traditions and ways of life.
Martin Ward is a fisherman in a picturesque Cornish village. He struggles to make ends meet fishing without a boat, while his brother Steven uses their late father's vessel to offer cruise trips to visiting tourists.
Meanwhile, tensions arise between Martin and the out-of-town Leigh family, who use the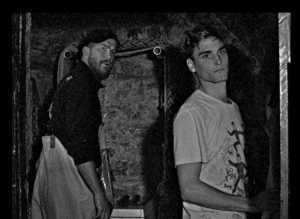 harbour-front 'Skipper's Cottage' they bought from Martin and Steven as a seasonal holiday home and short-term rental business.
Filmed on a clockwork 16mm camera and hand developed with the sound dubbed on afterwards, Mark Jenkin's celebration of a hands-on craft approach to celluloid so neatly mirrors the sentiments of the film.
Trailer: https://www.youtube.com/watch?v=wxwnJF8SU7g
THE GLORY OF THE GARDEN       Dir. Barney Snow, UK, col.  2018, 59 min     Sunday 7th Nov 13.00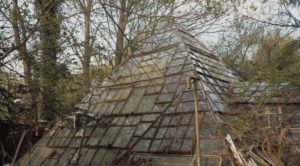 Hidden in the English countryside there's a secret garden like no other.  A film about art, nature, toil and solitude, The Hereford Alternative Arts Centre is the singular creation of Black Country visionary artist Paul 'Rick' Jones.
The unruly garden is a labyrinthine junkyard wonderland, boasting delights such as a kettle tree, canoe hotel and a geodesic dome made of bed frames; an uncompromising attempt to force a truce between nature and man-made objects. In doing so he provokes us to question our constructs of order and beauty in a consumer age.
Trailer: https://vimeo.com/636985414
THE LOST LEGACY OF BIDA BIKINI             Dir. Remi Vaughan-Richards, Nigeria, col. 2021, 57 mins
Sunday 7th November 14.30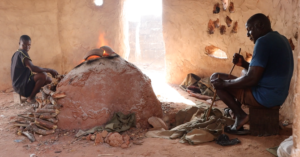 At the crossroads of west-central Nigeria in the Nupe city of Bida, Masagá glassmakers manufacture raw black glass, creating breathtakingly beautiful objects.
The method is said to have migrated from Egypt to Nupeland in the mid-nineteenth century and has remained a secret for nearly two centuries.
Research revealed that only one ninety-year-old man retained this secret knowledge of glassmaking – knowledge in jeopardy of disappearing.
As the threat of a lost legacy looms, the documentary follows the story of the Masagá glassmakers who agreed to recreate bikini glass.  Trailer: https://vimeo.com/636965305   
LAMBING     Dir. Philip Trevelyan UK, B/W, 1964, 26mins   Sunday 7th November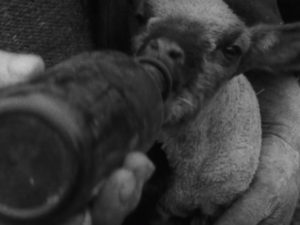 A unique opportunity to see Trevelyan's award-winning student film on the big screen and chart his development as a film maker of unmistakable style.  Even here his early film uses poetry as the main narrative. He is already experimenting with and finessing his powerful control of time and space and ability to make his subject so at ease as to be seemingly unaware of the camera.  This throws up wonderful intimate glimpses and an air of peaceful contentment as we are slowly drawn into the shepherd's world…
Trailer:  https://vimeo.com/244438917
DANCE OF JOY   Dir. Christine Booth, UK 2019 col. 93 mins Sunday 7th November 17.00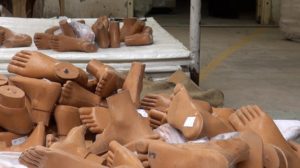 A truly remarkable film that shows how much can be achieved with so little.  Booth's eye-opening documentary is about a centre in India which provides free prosthetic limbs for the many people, largely the poorest in society, who have lost one or both limbs.
Using the lowest imaginable tech and providing 60,000 new limbs a year, each one is fully bespoke, allowing the patient to walk out the same day on two legs.  Packed full of glorious images and individual stories, the joy and transformation in the patients is overwhelming in its reality.
                                                                             "When people get a new limb they get a new life"
This film has a feelgood factor off the scale and gives a powerful insight into a kind of world we all yearn for.
Trailer: https://vimeo.com/630936454
You can support this amazing centre by donating here: https://www.jaipurfoot.org/
THE RAVEN'S DANCE (Korpinpolska)       Dir. Markku Lehmuskallio, Finland, 1980 mins, 80 mins
Sunday 7th November 19.00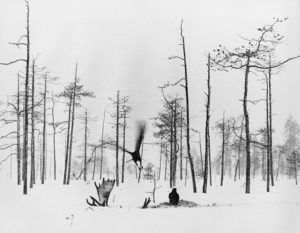 Markku Lehmuskallio's remarkable and mesmerising film is a symphony to the beauties of the earth and its creatures in all its harmonies, simplicities and complexities.  But where does man fit into this symphony?
The Raven's Dance is about Northern nature and in particular about its forests.
In supporting roles are a smallholder family living in the wilderness where the distant sound of civilization is encroaching into the forest, coming ever closer . . .
The moral of the film arises from the right to use Nature being equal for humans and animals. A human has a right to use nature to survive. Where an owl hunts a mole, a human shoots an elk.

But where is the balance?  At what point does Civilization penetrating into nature become an act of plunder?
The film received an honourable mention at the 30th Berlin Film Festival.
(Trailer to follow)
New York Times review:  https://www.nytimes.com/1980/11/06/arts/ravens-dance.html
For more images of the Revelator please click here:
https://www.instagram.com/the_revelator_clydebuilt/?hl=en    or   https://www.instagram.com/stephenskrynka/?hl=en
A MESSAGE FROM CORNWALL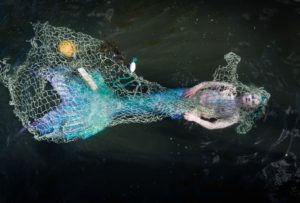 Although it has not been possible to include all the many important films on sustainability, we are delighted to be able to include links here from the Cornish film makers who were very active in making their voices heard during G7.
Cornwall is at the forefront of climate change in the UK.  What happens there today will affect the rest of our island tomorrow.Here is a selection of wonderfully informative films both showing the impact of climate change and also showing how implementing change can benefit everyone.
A POSTCARD FROM CORNWALL TO COP26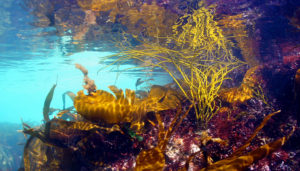 We're Living it
Different ways that climate change has already affected Cornwall
https://www.youtube.com/watch?v=tdyDht282PU
running time 2 mins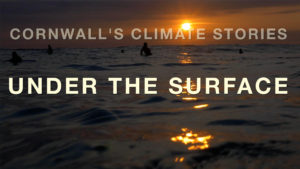 Under The Surface is presented by a beach cleaner, who finds out how climate change is impacting Cornwall's marine environment – and meets the local people working to tackle it and find solutions
https://www.youtube.com/watch?v=eT1TinEhi-s&t=6s  running time 30:55 mins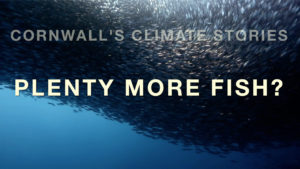 Plenty More Fish? follows a local fisherman as he explores how climate change is impacting Cornwall's fishing industry – and what we can all do to help.
Running time 27:40 mins
https://www.youtube.com/watch?v=vtmbiUwgPx4&t=83s
Watch more films on climate change from Cornwall.  They know what they're talking about! https://www.youtube.com/watch?v=X02zQiGojUA&t=21s
If you want to get in touch with the charity who made these films please go to cornwallclimate.org
MORE FILMS FROM CORNWALL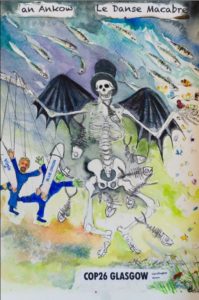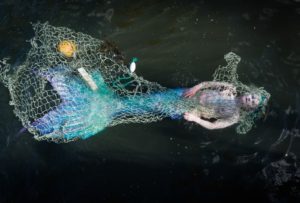 creativekernow.org.uk has also sent us some films made during G7, showing the artists' voices, both young and old, in their plea that their voices be heard on climate change.  For those of you who don't speak Cornish, 'Ankou' is Cornish for death.
You can watch these very creative contributions here:
https://www.youtube.com/watch?app=desktop&v=b83PUJoVVzQ
BBC Radio Scotland – Scotland Outdoors is also running a podcast on conversations between ordinary Cornish and Scottish people about the impact of Climate Change on their lives.
Listen here:    https://www.bbc.co.uk/programmes/p09yvynm