About Philip Trevelyan
Philip Trevelyan

Born in London in 1943. Son of Julian Trevelyan, painter. Home in Newhaven, Sussex.

"In 1970 I approached Jimmy Vaughan with plans for The Moon And The Sledgehammer.  I knew him already as the distributor of my previous film along with a personal choice of under-ground and experimental films.  It was thanks to his initiative as a financier and producer that The Moon And The Sledge-hammer was able to go into production."

The film took over a year to complete, and was subject not only to the strains and stresses of an emerging production company, but to considerable differences of opinion between Vaughan and myself.

It may still be possible, thanks to the calm engineering of the editor Barrie Vince, to find in this film some evidence of two minds and two talents working together."

Ideas for future productions in England are slowly emerging.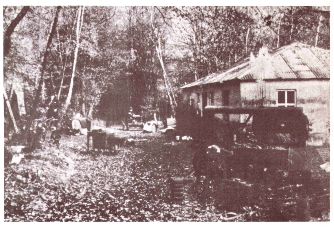 1960-62
Dept Fine Art, Kings College, Newcastle.
1963-66
Dept Film & TV, the Royal College of Art.
1967
Granada Television; Documentary Team
1968
BBC Television: Documentary Team
Film titles and career:
1964
Lambing
16mm B. & W. 26 mins National Nature Film Festival 1
st
prize. Broadcast on BBC TV. Director / editor while at Royal College of Art.
1966
The Ship Hotel, Tyne Maine
  16mm  B&W  35 mins.  Director/editor. Won silver medal at Royal College of Art. Broadcast on Tyne Tees TV. Shown at Krakow Film Festival.
1966
Margins of the Mind
Producer's assistant. 16mm colour.  30 mins each Granada TV series.
1968
The Farmer's Hunt
  16mm colour  40 mins.  Director. BBC film of stag hunting on Exmoor
1969-71
The Moon & the Sledgehammer
for Vaughan Films.  16mm colour 65 mins. Director. Shown in Berlin & London Film Festivals. 1
971
Big Ware:
 16mm colour 40 mins.  Director / Producer. Traditional country potter. Shown on BBC Omnibus and won a prize in Canada.
1972/4
Portraits of Places. 
16mm colour 30 – 40 mins.   TV series for Granada, with Ray Gosling writing and appearing. Director of seven titles, which included:
Trafford Park,
(Manchester
).
Sleepy Hollow
(Goole),
Bath
in Spring
Caravan Strip
(Rhyl),
Aldershot
(on Armistice Day),
Hookey (
a village for Christmas)
Liverpool Lunchtime
.
1975     
Started farming at Hill Top Farm, in North Yorkshire.
1976
        Hired as director for a dramatised film about the
Mongols
and the building of
Isfahan
. David Frost Productions. Project ended with deposition of Shah.
1979       
Part-directed (and entirely edited / re-constructed), a film about the poet
Basil Bunting
. Made for the Arts Council.  Shown at London and Cannes.  16mm colour 40 mins
1979        K.491
  An exploration of the famous Mozart Piano Concerto in C minor.  No words.  16mm colour 60 mins Commissioned by Channel Four Television.  (Director / editor)
1985        Surrealism in Liverpool
  16mm colour.  Granada TV film celebrating Surrealism and the arrival of an international exhibition as the new Tate of the North.  Commentary by George Melly.
1986-2007
Organic farmer (beef, sheep, cereals). Founded the Lazy Dog Tool Co. (designing & making specialist hand tools)
www.lazydogtoolco.co.uk
Founded Yorkshire Organic Millers (a specialist grain milling project).  
 www.yorkshireorganicmillers.co.uk